We all know the basics of keeping our vehicles in good condition. Having the oil changed on a regular basis and the tires rotated every so often. Going slow over speed bumps, not parking under the trees and having our vehicle washed when it needs it.
If you work a full time job or you are the Uber driver for your kids, you spend a great deal of time in your vehicle. Have you ever taken time to think about the cleanliness of your vehicle?
Let's face it, the vehicles are not an investment. They are a necessary evil. Unless you like walking or biking to the store, bank, the doctor's office, soccer practice, work, or church, you probably prefer the comfort of riding in a vehicle.
So, if you spend so much time in your vehicle wouldn't you want your vehicle to be as clean and protected as it possibly can be?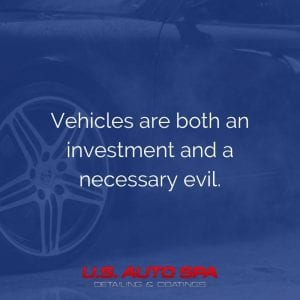 How good would it feel to drive in a vehicle that is not only free from bacteria on the inside and shines like a diamond on the outside? Also having the peace of mind that your vehicle's exterior is protected for years to come.
Let's discuss the interior of your vehicle, first.
How to keep the interior of your vehicle clean.
Keeping the interior of our vehicles clean starts quite simply by removing trash
Every time you get gas empty all the trash you can find in your vehicle into the trash receptacle. This, will do two things, prevent the buildup of trashing your vehicle and not increase the trash in your garbage can at home.
How worried should you be about germs in your vehicle?
There are more germs on the steering wheel of a vehicle than there are on a public toilet seat. Not to mention how many germs you track in with your shoes, sneezing, and coughing in your vehicle produces germs on every surface.
This might not seem like a big deal in the spring or summer because flu season has passed. Wrong. In warmer weather germs have more field to proliferate and your chances of getting sick go up astronomically. You will never look at your steering wheel the same ever again.
When you want to clean as environment for your family, not to mention if you are a new mom or have a weak immune system, we recommend you have your vehicle detailed and sanitized before you bring that new bundle of joy home from the hospital.
To prevent the buildup of germs, I would recommend using GTechniq Tri-Clean, which is a 99.9% antimicrobial.
You can improve your air quality easily.
One way you can improve the air quality in your vehicle is to change your in cabin air filter every six months.
Just like the air filter in your house, your in cabin air filter in your vehicle, keeps the air fresh and clean. If you have never changed it before, you will be amazed how gross the old one is.
I would recommend going to YouTube to find out how easy it is to do it yourself. Don't pay the dealership for something that you can do yourself.
I would also suggest that you buy the more expensive air filter because it usually contains carbon, which does a better job of maintaining the air quality.
What about the seats and the carpets?
Every time you get into your vehicle, you track all the dirt and germs onto your carpet. This may not seem like a big deal, although, but when you drop your phone, your purse, your baby's bottle, et cetera, that item is now contaminated.
Don't get me wrong, I'm not trying to make you OCD about germs, it's just the truth. The seats in your vehicle are exposed to a multitude of germs and dirt.
If you spill anything organic in your vehicle, it causes live bacteria to grow. These spores can remain dormant for long periods of time and when the environment is right, they bloom.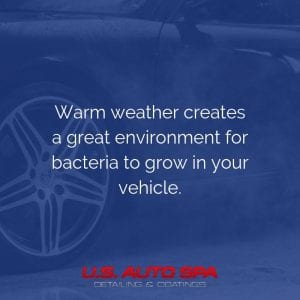 What if you spill a Coke or a cup of coffee? If you allow that spill to remain, it can become permanent. Our interior car detailing services includes the latest and greatest tools, i.e. commercial carpet extractor and a dupray steamer.
This enables us to achieve remarkable results leaving or vehicles sanitized and free from germs and dirt with no lingering smell of chemicals.
We also offer a one year protection with bio code, which is also at 99.9% antimicrobial. That will resist stains and spills, and as well prevent germs.
How to maintain the exterior of your vehicle.

What are some of the things you can do to protect the exterior vehicle from the elements that it faces on a daily basis?
If your vehicle is not garaged, it is more susceptible to damage from UV and all types of fallout from the environment.
One way you can maintain the quality of that exterior vehicle is by having it washed on a regular basis. Another suggestion isn't never park under trees.
If you happen to notice bird droppings or tree sap on the surface of your vehicle, it's very important to remove the contaminants as soon as possible.
The best way to remove tree sap from the surface of your vehicle is by using isopropyl alcohol and a microfiber. If you have bird droppings on on your vehicle, the best way to remove them is with water.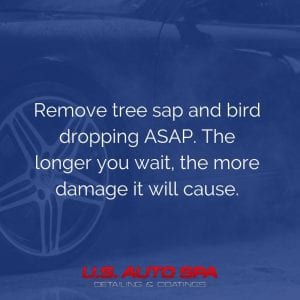 Water is also known as a universal solvent because it dissolve more substances than any other liquid on earth. Water will soften up of contaminants, which will allow it to come off your paint without causing any scratching or any damage once it's removed.
After it's removed, it is very important to have your vehicle washed to remove any lingering acids.
Ceramic Car Coating
It's important to have a layer of protection on your vehicle. That way, when contaminants come in contact with the surface, they will not damage the clear coat.
Wax and paint sealants are an option, although the downside is the best wax on the market will last less than 30 days. A paint sealant will last as much as three months, so then you're constantly reapplying to maintain a level protection and the protection is diminishing every day.
One option you may want to consider is by having a nano ceramic coating applied to your paint. This creates a long term barrier protection for the surface of your vehicle.
Waxes and paint sealants are an option for protecting the surface, but the downside is they will not last. The longevity is not there. But our long term nano ceramic coatings that can be applied to your vehicle to provide protections ranging from two to nine years.
You still need to have your vehicle washed on a regular basis, but the upside is the protection is as consistent on day one as it is the very end, and you have the peace of mind of knowing your surface of your vehicle is protected from all of the elements. This also means that you don't have to worry about your paint being damaged by any type of contaminant that would fall onto the surface.
We offer ceramic car coatings that start at $299 and car detailing starting at $175. Our services are provide at YOUR location at a time that works best for you. No driving to a dealership to wait for 2 hours while your car is worked on. We have done work at private residences, work places, and similar areas.
Contact us today for a free quote for car detailing services for your vehicle!