Our kids mean the world to us, and we do all sorts of kind of things to keep them safe.
One way to do so is to take care of our vehicles.
Yes, you do regular maintenance, checking the brakes, the tires, and so forth, and you make sure that your little one is in the correct car seat.
But have you ever thought about the environmental impact your vehicle is having on your kids?
Not to mention the germs that those little gifts of God are bringing into your vehicle.
The sneezing, the coughing, the vomiting. Everybody's going to have to change a diaper at some point in time in their vehicle, if you have a kid that's not potty trained.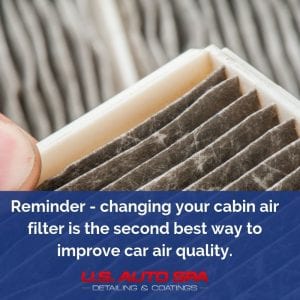 So you take in the germs that you track in on your feet from the public restroom, store, parking lot. You touch door handles, shake hands, etc.
And all those germs that you're collecting on your hands, on your feet are attaching themselves to anything and everything that you touch within your vehicle. Not to mention the germs that can live in your air ventilation as well as your in-cabin air filter.
What can you do to prevent this and create a clean, healthy environment for your kids?
DIY – Change the cabin air filter to improve air quality.
One of the key sources of fresh, clean air in a vehicle come through the in-cabin air filter. We all value the health of our children, and changing the air filter regularly is one way to protect them.
If you want to learn how to do it yourself, go to YouTube and type in your year, make, and model of vehicle, how to change in-cabin air filter. When you see how simple and easy it is to do. Save yourself money, you can thank me later, from a dealership where they charge anywhere from $85 to $125 put these things in.
When you buy an air filter, make sure you get the one that's more expensive. There's a cheaper version and a more expensive version. Unlike in many cases, more expensive means better.  A more expensive in-cabin air filter is going to have the carbon in it. It's going to have baking soda in it. And it's gonna filter out the air better than it would have a less expensive one.

DIY – Keep your vehicle clean.
You knew I was going to say it – the number one thing you can do is to maintain the cleanliness of your interior by removing trash regularly.
Every time you stop for gas, every time you pull up at the house, clean out the trash. Always just keep taking trash out of the vehicle.
Never ever leave food dropped from your kids in the vehicle, even Cheerios, chicken nuggets. All these food products, they will cause you serious problem down the road with odors and all kinds of situations.
How can you destroy the germs that are present AND prevent more germs from building up?
Let's face it, kids are germ petri dishes. They sneeze and cough and touch everything. If your children visit daycare, school, or any gathering of other kids, that's more germs. The germs are picking up; the hands are touching everything.
Let's talk about how we can prevent a situation, especially in the cold and flu season, in the colder months of the year, it's even more imperative that we keep our vehicle free of germs and bacteria.
Get the interior of your car detailed.
At US Auto Spa, we are specialists in interior detailing which includes the complete sanitation of the vehicle as well as in car odor removal.
Our interior detailing package includes using a commercial-rated carpet extractor to remove any type of dirt and bacteria from any carpet or cloth surface. We also use a Dupray steamer, which creates a high steam trail that will kill all germs. So we're going to clean, disinfect, and deodorize without using chemicals. For people who have sensitive allergies or are very sensitive to smells, or they don't want the car to smell like a bottle of Clorox bleach, we're the company to contact.
We never come out and mask odors with any type of Febreeze sprays or anything like that. We never cover up. We eliminate.
Whenever you have a situation with an odor or maybe you're feeling your vehicle isn't as clean – give us a call.
Keep the germs away.
It's very important that we keep our kids healthy, we keep our environments healthy. And I know that you being a parent, you definitely want the best for your children.
So at US Auto Spa, we have a product that we always use in our process of interior cleaning. It's called Tri-Clean. It's made by Gtechniq. It is a 99.9% antimicrobial. It has an additive called bio coat, which actually is a year-long preventative spray that crushes germs from for almost an entire year.
Something causing an odor? We can handle it.
An odor removal job is a little bit more, but in a nutshell, it's a very intensive interior detail, with a few things added. Sometimes the ozone treatment for cigarette smell removal, a chlorine dioxide generator to kill any other germs as well, as well as also changing in-cabin air filters.
Get ready for winter.
So you're looking for peace of mind, to know that your vehicle is really clean, US Auto Spa can guarantee a germ-free, odor-free, healthy environment for your vehicle.
Are you looking for these kinds of results?
Are you tired of messing around with people or individual companies that don't know how to go after germs, go after odors, or they mask odors?
Give US Auto Spa a call for peace of mind (770) 380-3261.