Washing your own vehicle is an American pastime. It reminds us of summer days and fun. It's also a way to save money and give personal attention to your vehicle.
While we can come out and do a professional, detailed cleaning of your vehicle, you are perfectly capable of doing it yourself. Here is some information and tools that we recommend using to ensure that you get a deep cleaning without damaging your vehicle.
Most important – water.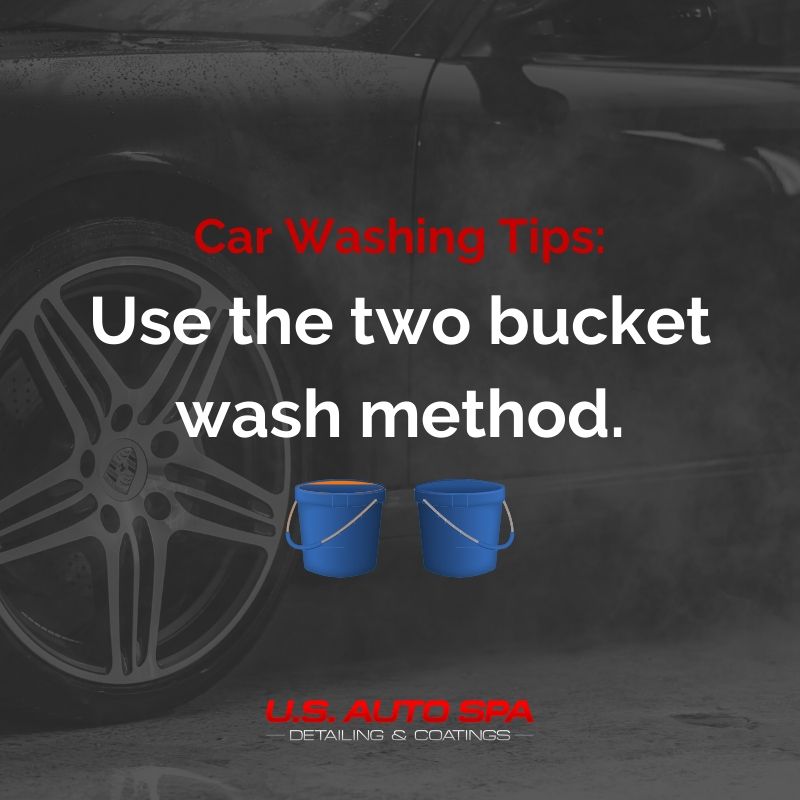 A couple of things first and foremost, whenever you wash your vehicle, you're going to want to make sure that you have ample water to be able to continuously move any dirt, and what I recommend is using a hose with a spray head.
That way you can spray a certain area down, you can soap it up, you can wash it down, and you can rinse it panel by panel. Ideally you do not want to wash your vehicle in direct sunlight, although if you can keep it cool and you continue to wet it down, it's no big deal.
Tools Needed for the Two Bucket Wash Method
Let's talk about some of the things that you will need to wash your vehicle. I recommend that you use the two bucket wash method.
A two bucket wash is where you have one bucket that is full of nothing but water and your other bucket is a soap bucket with your suds or your car wash soap.
In both these buckets, you're going to want to have grit guards. You can go to any detailing supply place online, Autogeek, they have these, they're called grit guards and you put those at the bottom of your wash containers.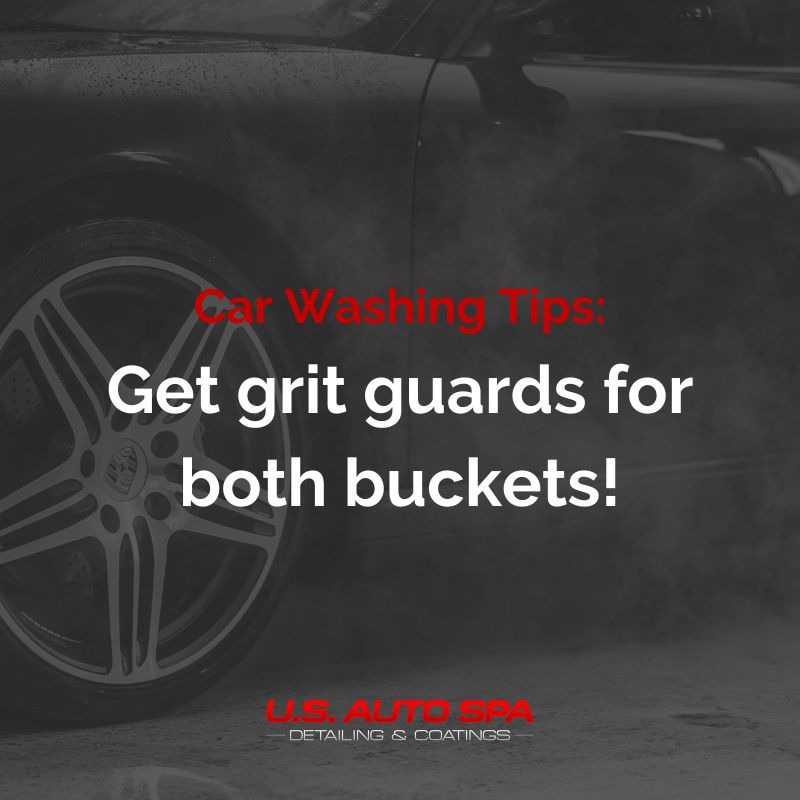 You want to use wool wash mitts. You do not want to use brushes. You don't want to use a shammy wash mitt that you bought at Walmart.
In fact, I'm not trying to slam Walmart, but you do not want to be purchasing your detailing, your car washing supplies from Walmart, AutoZone, O'Reilly's, wherever. Nothing wrong with those stores, those are just products that are not tailored with the care of your vehicle in mind. Those products are tailored, "How much money can we make off this bottle of soap or spray?"
What I would recommend is contacting www.DetailLink.com for all your detailing needs. They offer professional detailing products, which you're going to use less product and get better results.
So we have all these tools in place. We have our two buckets, our grit guards, our water in one bucket, and our soap in another bucket.
Two Bucket Method In Action
Let me explain how you use these two buckets.
Before you wash, agitate the surface of the vehicle, you want to take your wash mitts, dip them into the water bucket and grind on that grit guard to make sure that any dirt that's been embedded in those wash mitts is gone.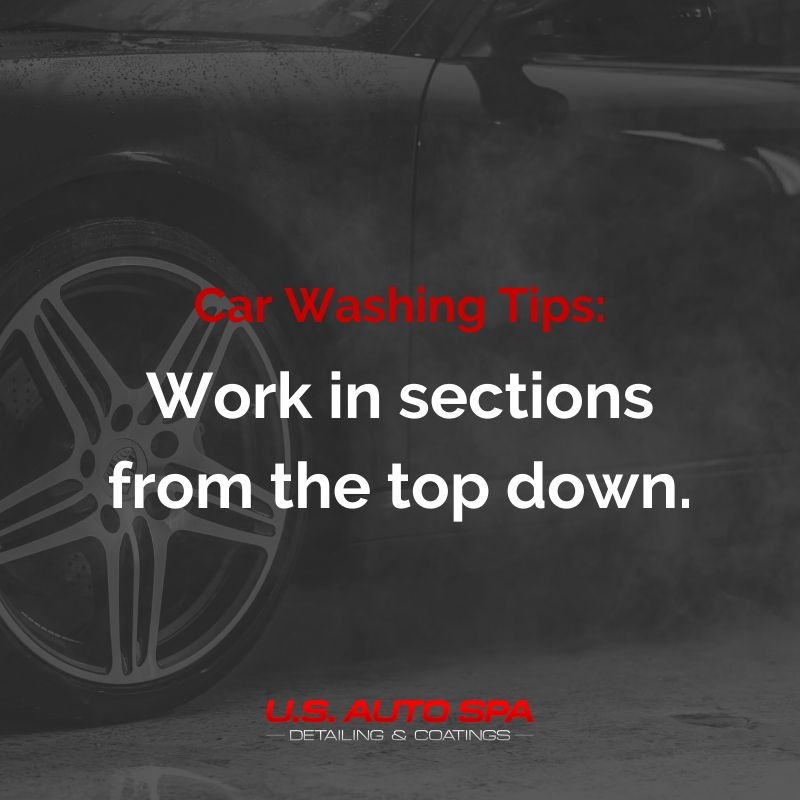 After you have thoroughly done that, you dip it into the soap and you start at the top and you work your way to the bottom.
I like to do it in horizontal sections of the highest points first, followed by the middle, then the lowest; and I split each horizontal section in to panels. The lowest section is your last pass because it has more road brine and debris than the other sections.
As you move from panel to panel, you want to clean your wash mitts and re-soup after each panel. To do so, you take your wash mitts and stick the in the water bucket and agitate the wash mitts against the grit guard. This causes all of the dirt on the mitt to fall into the bottom of the bucket and stay there. Then you can safely dip your mitts into the soap bucket without transferring dirt into it.
Why is this important? If you have any dirt or debris on your wash mitt which you then use to wash a section your vehicle, you will still remove more dirt, but you'll also be making fine scratches. These scratches may not be immediately noticeable, but over time, those micro scratches can cause paint damage. That is why it's important to always rinse out your wash mitts thoroughly and use a grit guard.
Drying Your Vehicle
Drying your vehicles is the second time that you are at risk to scratch your vehicle.
Many people dry their vehicles using a shammy – a bath towel or other type of towel. If that towel has any dirt on it or if it is rough, you will scratch you vehicle as you move it up and down the surface of your vehicle.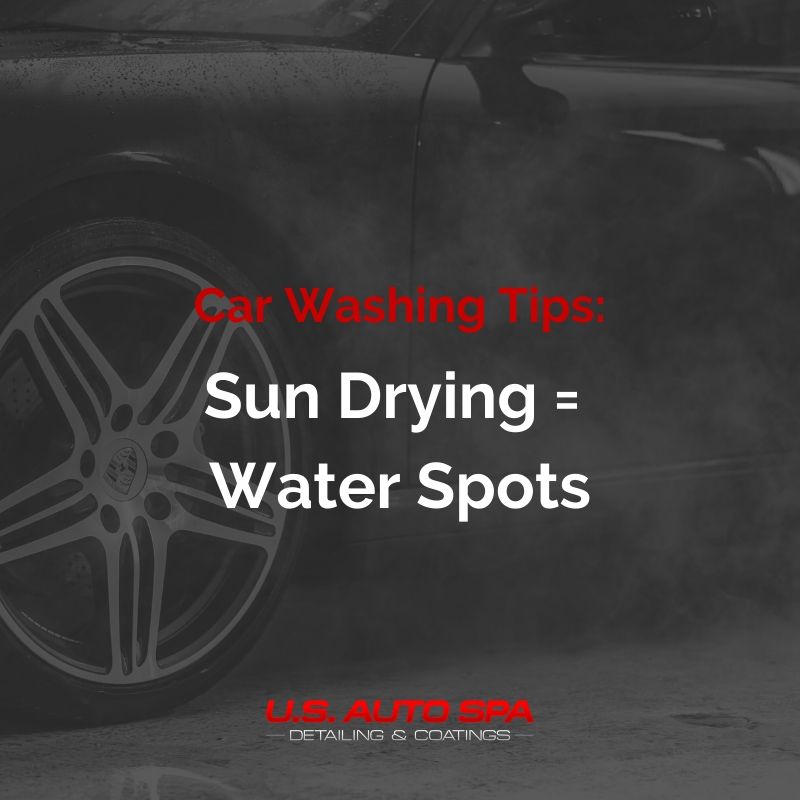 What we recommend with the two bucket wash method is to use a blower to eliminate the issue. You don't need an expensive backpack blower; an inexpensive leaf blower or even hair dryer can get the job done.
Why use a blower? The blowing air is gentle on the paint and gets the water out of the cracks and clevises better than a towel.
Why not leave in the sun to dry? Water spots. When your vehicle dries with water on it (ie. evaporation), it leaves minerals behind. Once it dries, those minerals end up etched into your clear coat, and you have a water spot situation.
Being a professional mobile detailer, we use professional grade chemicals. We have professional grade tools, wash mitts, brushes, you name it, we have it. So if you don't have time to clean your own vehicle, contact US Auto Spa, we would love to earn your business. We have 20 plus years of experience doing what we do, so we are the best, or one of the best, in the business.
---
Headlight Oxidation – Get A Long-Term Fix
Also, if you driving down the road and you just somehow, you seem like it's getting darker and darker every night you drive your vehicle, look at your headlights. I bet your headlights are oxidized. There is a solution for that. It's real involved, I do not recommend any type of short term fixed, a $19.95 fix at the Walmart or wherever. That's a short term fix, it will not last.
The only way to correct that problem is by sanding down and getting rid of all the dead plastic in that lens and then polishing that lens back up. We also apply a one year ceramic coating. All the headlights that we restore, they get a one year ceramic coating put on it. We also guarantee them for a year. I've never had anyone contact me back that's had an issue.
---
So to wash your car can be therapy therapeutic. It can be an exercise for you. It may just be something that you love your vehicle so much you want to do it yourself. That's great, but when you do it, I would recommend researching it before you damage your vehicle. YouTube is an infinite source of information, just go to YouTube, search how to wash your car, the two bucket method. I'm telling you, it's the best way.
If you're in the need for mobile detailing, headlight restoration or a personalized hand-wash for your vehicle, give us a call at (770) 380-3261 for a free quote.